Registered Quarter Horses
Goal
Our Goal is to breed structurally sound, well balanced, hard working horses that are versatile, learn fast, and have an extra good disposition. We want a horse that can do anything and look good doing it.
It is important to us that our horses are "cowy". It is something that we breed specifically for and most of what they are used for on our farm is working with cattle. Our horses are also used for trail riding, pleasure riding, and pleasure driving. It is especially important that they are quiet enough for small children to ride. All of the foals born on our farm are imprinted at birth to help them bond with humans and to prepare them for future training. Imprint training is early training during specific critical learning time, given as soon as possible after the foal is born. The information registered during such periods lasts a lifetime and forms permanent attitudes and responses to various stimuli.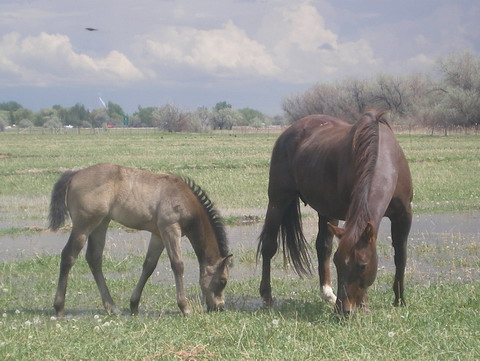 Rocky's Little Squirt
Here is our 1987 AQHA mare, Rockys Little Squirt, and her 1 month old filly out of Larks Last Song (picture taken in 2009). We have been very pleased with the colts that have been foaled by this mare. They train easily and are very fast learners. They tend to be sound, well balanced, nicely muscled horses that are athletic with a lot of natural cow sense and ability.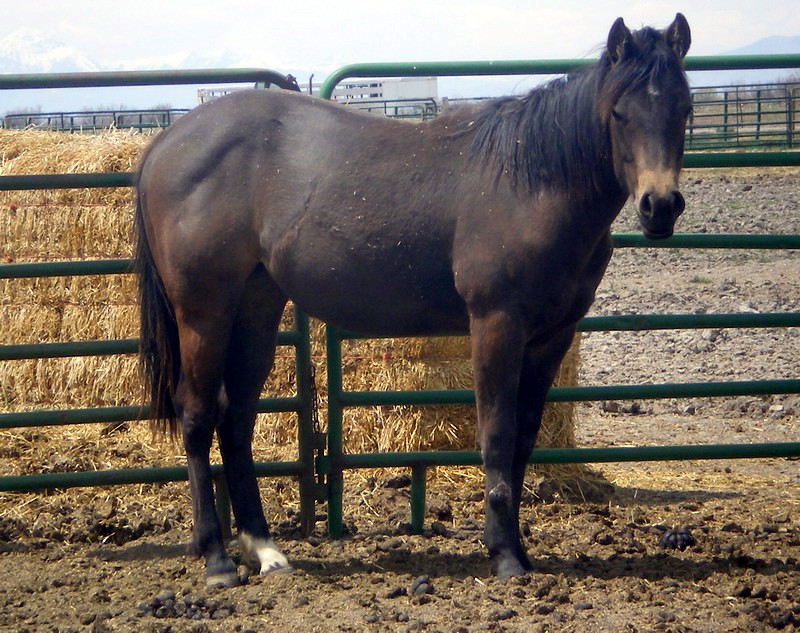 Rugged Little Bella
Our 2009 smutty buckskin filly (pictured at 1 year old) out of Rockys Little Squirt and Larks Last Song. Larks Last Song is a buckskin son of Rugged Lark, one of the most legendary Quarter Horses to ever live. Rugged Lark had an illustrious show career in which he won major awards in nine different events; Western Pleasure, Reining, Pleasure Driving, Barrel Racing, Hunter Under Saddle, Trail, Hunter Hack, Western Riding, and Working Hunter. He also won the AQHA World Show Superhorse title twice and is the only Superhorse in history to also sire Superhorse winners. Rugged Lark was especially known for his Bridleless Exhibitions around the country and his unusual intelligence and personality.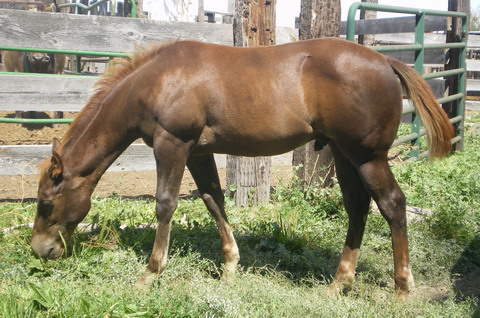 Watch Rockets Song
To the right is our 2007 colt, Rocket (shown at 4 months), out of Rockys Little Squirt and Watch Red Song. Squirt's pedigree includes some of the breed's greats, such as Poco Bueno, Go Man Go, Rocket Bar, and Star Duster. The year we bought Squirt we looked at over 100 brood mares. She was by far the best mother that we saw. She always raises a great colt that is well built, smart, and athletic. Rocket is no exception. He is a very fast learner and is already showing his cow sense. He is a full brother to our 2001 mare, Whisper A Song, featured at the bottom of the page. An updated picture and information on Rocket is available on our For Sale page.
For Sale $2,500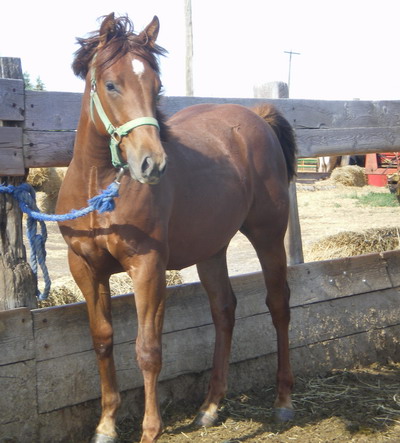 Smart Little Sass
This is Sassy (pictured at 1 year old), our 2006 filly out of Rockys Little Squirt and Mr. Commandicate, a son of Smart Little Lena. Mr. Commandicate placed in the Top 10 Finalists in the 2005 Western Nationals and he has earned over $22,000 in the NCHA. His dam is Ms Linton Command, an Equi-Stat All Time Leading Producer whose offspring are earners of over $460,000. Mr. Commandicate's sire, Smart Little Lena, is a cutting horse legend, earning $743,275 in the NCHA. He was the first horse ever to win the cutting horse NCHA Triple Crown and is also 1 of only 3 horses to ever win it. Smart Little Lena has sired champions in both cutting and reining, and is the All Time Leading Sire of NCHA Money Earners. He has sired 17 World Champions, 11 Reserve World Champions, and 110 Register Of Merit earners. Thanks goes to Sassy's new owner, Casseys Desert Ranch of Rupert, ID.
SOLD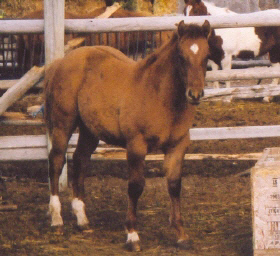 Two Eyed Jazz Man
Shown here is our 2004 colt, Jazz (pictured at 5 Months old), out of Rockys Little Squirt and by Two Nic. Two Nic's sire, Reminic, is one of the most sought after performance sires today, standing in Gainsville, Texas, for a breed fee of $15,000. Two Nic's maternal sire, Two Eyed Jack, has produced more AQHA Champions than any horse in history, 119 in all. Coming in at a distant second place is Poco Pine, having produced 37 AQHA Champions. Thanks goes to Jazz's new owner, Bob Branson, of Las Vegas, NV.
SOLD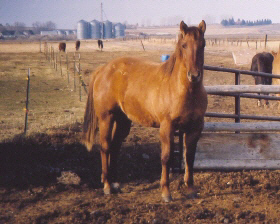 Nics Two Eyed Rocket
To the right is Nicki (pictured at one year old), a 2003 daughter of Rocky's Little Squirt and Two Nic. Two Nic's grandmother, Fillinic, is a cow horse legend, producing champions in hackamore, working cow horse, snaffle bit, reined cow horse, stock horse, reining, cutting, and roping. Thanks goes to Nicki's new owner, Wes Kent of Soda Springs, ID.
SOLD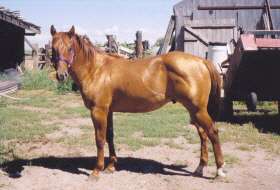 Remi
Remi (pictured at 2 years old) is a 2002 son of Rocky's Little Squirt and Two Nic. Two Nics father, Reminic, is a cutting horse champion, earning over $90,000 in the cutting pen. He is also a major sire of NCHA, NRCHA, and NRHA champions. Recently, Reminic was the eighth standout stallion to acheive National Reining Horse Association Million Dollar Sire status for having sired winners of more than $1 million in NRHA competion. Thanks goes to Remi's new owners, Tony and Kelly Sorenson, Idaho Falls, ID.
Sold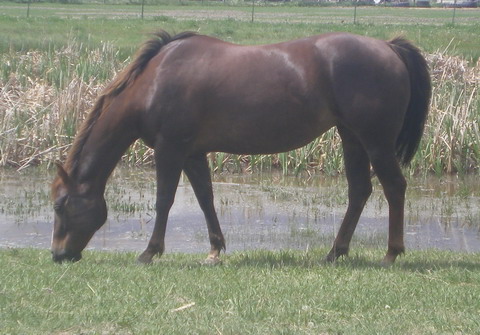 Whisper A Song
Whisper is a 2001 daughter of Rocky's Little Squirt and Watch Red Song. She is shown here at age 7. Her father, Watch Red Song is one of only a few AQHA Performance Champions west of the Mississippi River. He also has a Superior in Heading, Heeling, and Calf Roping. He was the 1998 High Point 6th place, and was in the Top Ten in Heading at the 1998 AQHA World Championship. He has 2 Reserve Grand Champions, is a Six Time Qualifier for the AQHA World Show, and was a 1997 Superhorse Qualifier. Whisper is a full sister to our 2007 colt, Watch Rockets Song, listed above. Updated pictures and information on Whisper is available on our For Sale page.
For Sale $1,000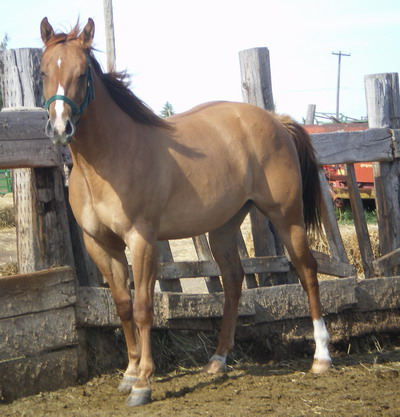 Reminics Red Song
Shasta" is a 2005 daughter of Whisper a Song (listed above) and Two Nic. She is nicely bred and well balanced, inheriting a great temperament from Watch Red Song, and great style from Reminic. Watch Red Song animals are well known for their quiet dispositions and smart minds. They are easily trained and very versatile. Reminic animals are well known for their good builds and athletic abilities. They have excelled in every area of the horse industry. Thanks goes to Shasta's new owners, Dale and Linda Simms, of Leesburg, TX. 
Sold