Horses For Sale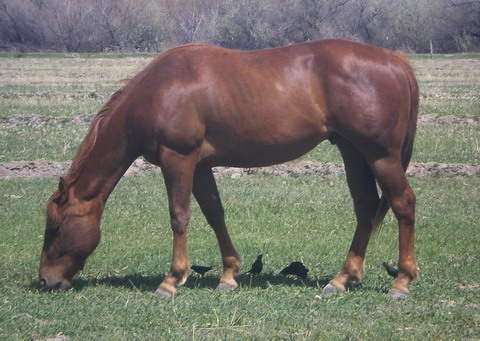 Watch Rockets Song (AQHA)
Trained – Needs Intermediate or Advanced Rider
Price: $3,800
Rocket is a 7 year old AQHA gelding out of our mare, Rockys Little Squirt, and the Performance Champion, Watch Red Song. Watch Red Song is one of only a few Performance Champions west of the Mississippi River. He is also a great roping horse and has won numerous times in Heading, Heeling, and Calf Roping, as well as being a Superhorse Qualifier.
Rocket is 14 HH and is solid chestnut. He is loving, easy to work with, and he learns quickly. He is the first horse to meet you at the gate and he will follow you around wanting to please you. Rocket is well started with a great foundation. He had 60 days of professional training by Terry Erickson and has been ridden regularly since. He has been ridden down the road, in the mountains, at 4-H meetings, and to gather cattle. He is current on his worming, shots, and trimming. He has been raised around children, dogs, tractors, and 4-wheelers, and is not spooky. He has nice gaits and is starting to learn correct leads, sidepassing and pivoting. He is good with other horses and is also fine being ridden alone.
Rocket spent a summer loose on the range and does well with water, sagebrush, and rocky ground. He has a calm, friendly disposition and likes to please people. We believe that he would make an excellent project horse for an experienced youth because of his extra sweet temperament. He is a fun horse to ride and he loves people.
Pictures of Rocket's Sire,
Watch Red Song

---